HFF presents Women's Day 2021 Challenge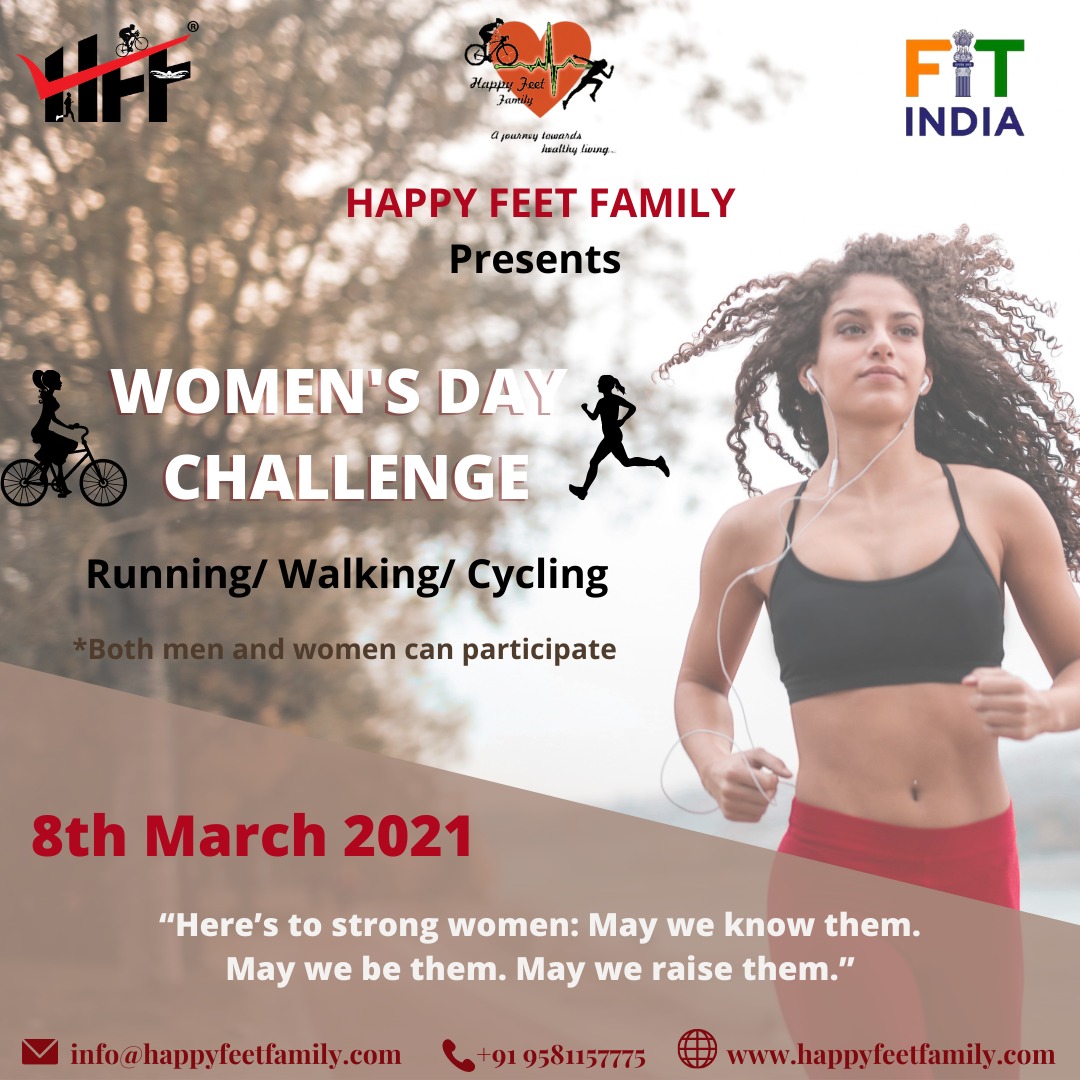 Happy Feet Family is once again here with a new challenge - Women's Day Challenge which is on 8th March, 2021.
With a motive to embrace how strong they are and the equality between men and women, we are giving an opportunity as a challenge to you all to be fit together and stand equally shoulder to shoulder virtually.
This virtual event will give you a sense of togetherness and equality where both men and women will participate and stand side by side in a beautiful collage at the end of the challenge which will be posted in our social media platforms.
We believe you will make this event more fun in your own way and for your health and goodness.
This is an event where you need either a pair of running legs, walking legs or cycling legs. Don't forget to warm them up before hoping into the challenge!
Register for the HFF Women's Day Challenge to join with us to embrace womanhood and fitness. We urge everybody to take part in this challenge and break the limitations which you have set in your mind and get that kick in the end after completing the challenge.
Know your freedom, improve your lifestyle, respect your health and body and enjoy this Women's Day Challenge.
In This Challenge,
1. You have to either Run or Walk for at least 1.5 km
Or
2. Ride your favorite Bicycle for at least 5 km.
3. You can do this challenge either alone or with your partner but the distance would be measured per person.
4. You can do this at any time of the day.
Rules :
1) Login and Register on Happyfeetfamily website is a Must
2) Should track your Distance on any App or any medium that can be shared, Data can be automatically collected if you record your activity on Strava which is connected with Happyfeetfamily.com or Manually Updated by participants before 12th March 2021.
3) Happyfeetfamily's Decision will be final and the Organizer holds the right to Change, Modify the elements of the Challenge which will be informed to the Registered Participants at the time of change.
4) The Participants have to make necessary arrangements to complete the Challenge – Happyfeetfamily will not be responsible for any situation arising due to misrepresentation or over performance by the Participant. As Happyfeetfamily is organizing such challenges with the sole intention of bringing fitness and good health, participants are hereby advised to take proper care of their health and listen to their bodies.
5) All the participants are advised to follow Covid-19 Safety measures and keep their health first in all circumstances.
6) Challenger Trophies are couriered at the end of the challenge on or before 22th March 2021
Awards and Prizes :
1) Dynamic Leaderboard 
2) An attractive Trophy after achieving your goal.
3) E-certificate (with your photo, name, activity, and distance) which can be downloaded from our site after you login.
4) A Beautiful Poster with your Name as a registered Participant (flauntable on all Social Media).
REGISTER for the love of your health!
Registration Start from

20-02-2021 to 08-03-2021

Event Start Time

08-03-2021 12:00 AM

Event End Time

08-03-2021 11:58 PM

Fees:

| Ticket Type | Fees |
| --- | --- |
| Dynamic Leaderboard + Digital Frame + E-Certificate + Trophy | ₹ 350 |
| Dynamic Leaderboard + Digital Frame + E-Certificate | ₹ 100 |
| Dynamic Leaderboard + Digital Frame + E-Certificate + Trophy | $ 58.89 |
| Dynamic Leaderboard + Digital Frame + E-Certificate | $ 15.79 |
For Registration. Please login or Register using button below.
Login
Register