Happy Feet Family Presents February Duathlon Challenge 2021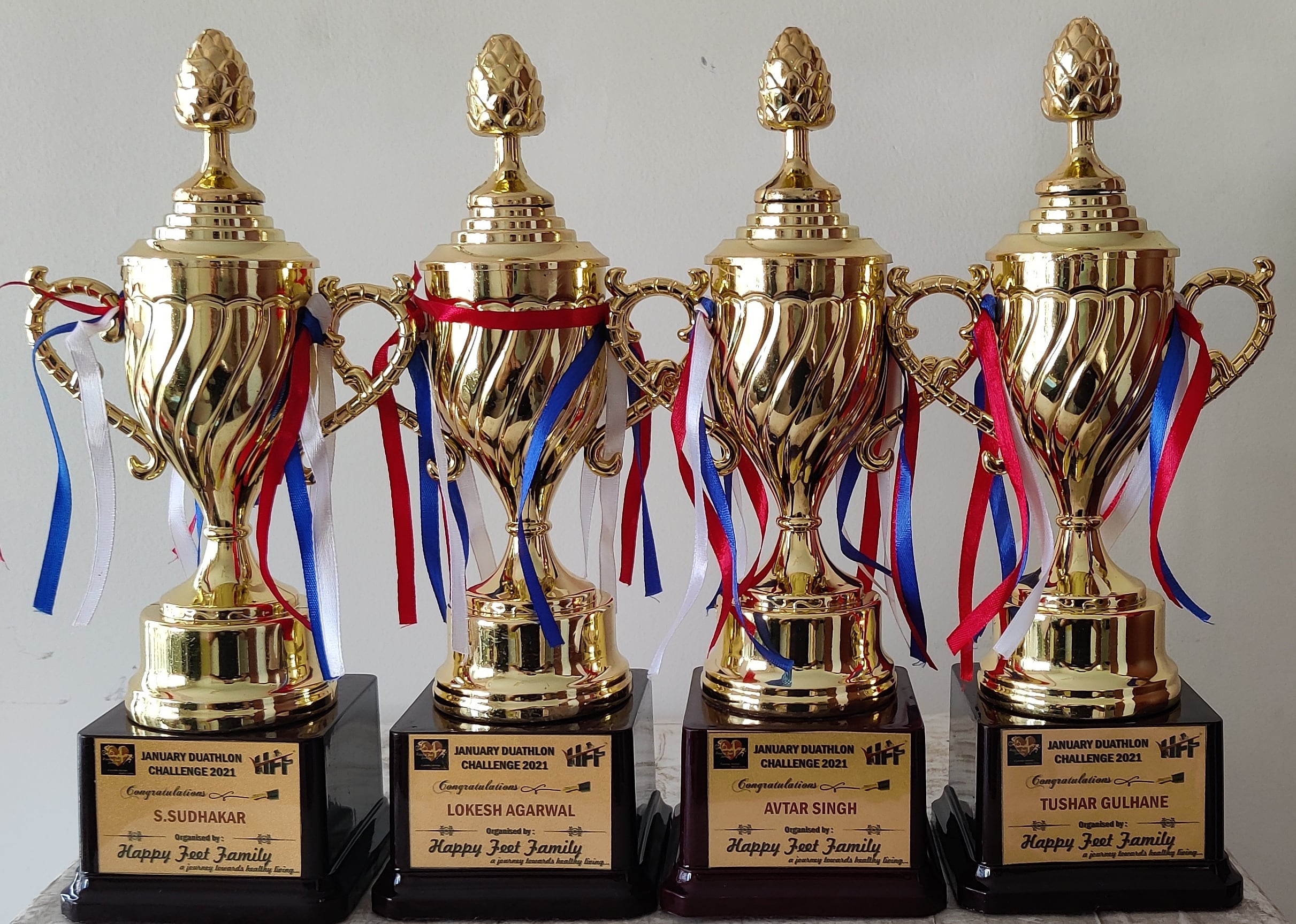 Happy Feet Family Presents Duathlon Challenge 2021. 
Whether you're a novice athlete or a marathoner who wishes to reform up their sports calendar, a duathlon can be a thrilling track and multi-sport experience. A duathlon is an athletic event that includes a racing leg, followed by a cycling leg, and a running leg in a triathlon-like style. A local franchise in Goa, India, has transformed this whole phenomenon into a virtual one due to the ongoing pandemic crisis which sounds more than fun on your own terms.
Register for the HFF Duathlon Challenge to stop procrastination promptly and get on with a healthy lifestyle. Happy Feet Family invites everybody to rejoice in the limitations you have set for themselves without burdening you with the pressures of forced tasks. You can enjoy all the perks of a duathlon virtually with Happy Feet Family's Duathlon Challenge. This challenge provides all kinds of freedom while also guiding health and prosperity to you. You can attain a maximum of everything while organizing your own self promptly for goodness.
Run/walk or ride to compete for a set range of selected length and duration. This you can do any time of the month (weekend especially). A minimum of 4 days of your choice and a minimum distance range of 2kms running and 5kms cycling for qualification in the challenge is required to sign up. Pick the number of days and duration of our choice and suitability to your schedule.
What you get:
1) Dynamic Leaderboard
2) An attractive Trophy after achieving your goal.
3) E-certificate (with your photo, Name, activity, distance) downloadable from your login and earn your bragging rights.
4) A Beautiful Frame (Downloadable from Happyfeetfamily.com) with your Name as registered Participant (shareable on all Social Media).
Rules:
1) Login/Register on Happyfeetfamily is Must
2) Should track their activity on any App or any medium that can be shared, Data can be automatically collected if you record your activity on Strava which once connected with Happyfeetfamily.com or Manually Updated by participants before 05th March 2021.
3) Happyfeetfamily Decision will be final and Organizer holds the right to Change, Modify the elements of the Challenge which will be informed to the Registered Participants at the time of change.
4) The Participants has to make necessary arrangements to complete the Challenge - Happyfeetfamily will not be responsible for any situation arising due to misrepresentation or overperformance by the Participant, Participants are hereby advised to take proper care of their health and listen to their body. Happyfeetfamily is organizing such challenges with the sole intention of bringing fitness and good health.
5) All participants are advised to follow Covid-19 Safety measures and keep their health first in all circumstances. 
6) Results will be shared on or before the 10th March and Goodies will be despatched on or Before 15th of March.
Registration closed for this event.