HFF World presents FATHER'S DAY 2021 Challenge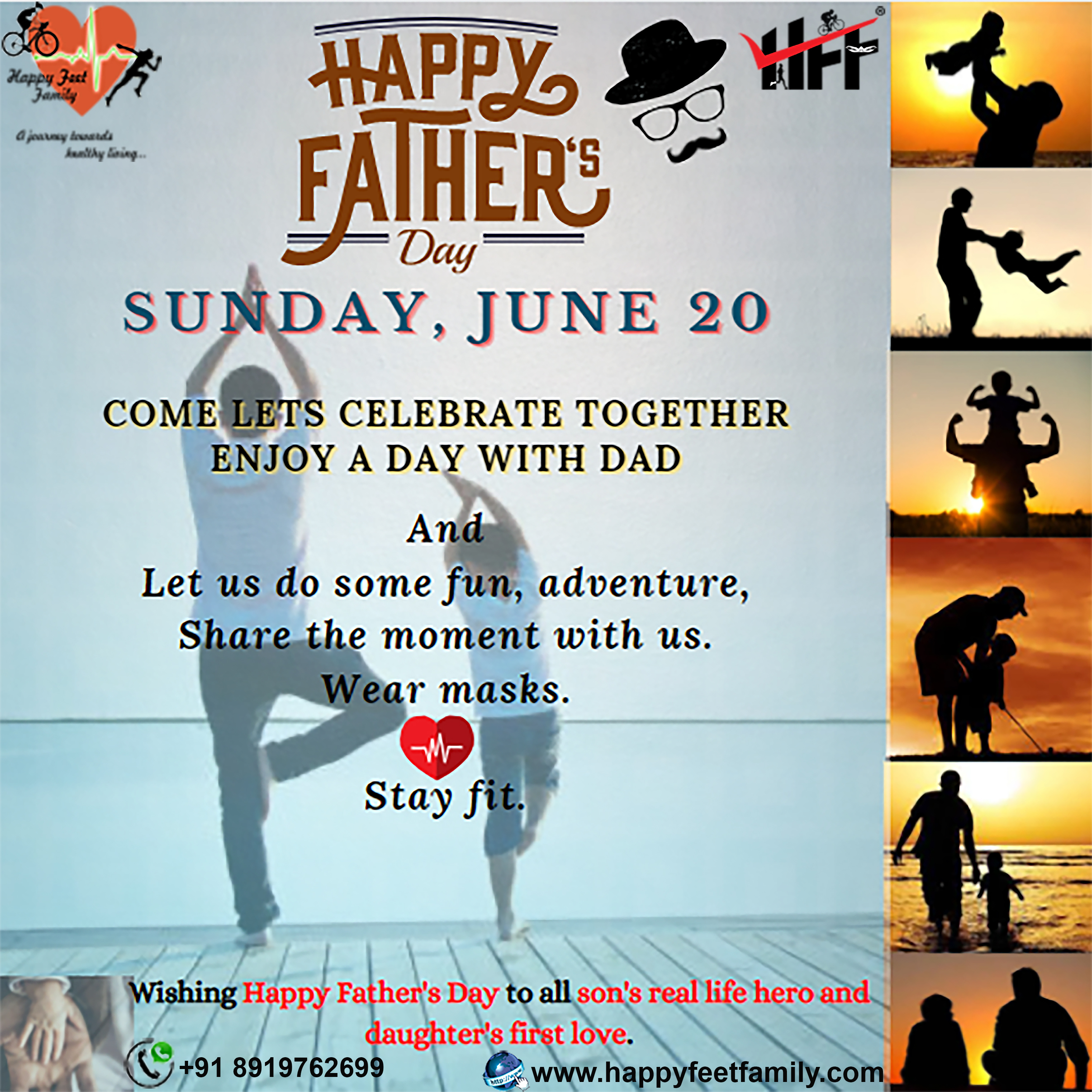 It's only when you grow up and step back from him—or leave him for your own home—it's only then that you can measure his greatness and fully appreciate it." A father is indubitably the most important person in every family who has a day full of profound reflection and that is in regard to his children and family. He makes sure that none of the members feels dejected for lack of anything. 
To the person who is most authoritarian but always stays by our side even at the lowest point of our lives and who works diligently day in and day out just to keep his family happy and at par with the evolving society. He is always there to take up all the responsibilities, be it the education of his children or every other monetary need. Works every day in the quest of improving everything and thus improving the condition of the family. It is important that he be rewarded for what he is and what he has been doing and make him special every day.
Engage Dad's competitive side and sign up for an event in our happy feet family website. Perhaps there is run or walk that you can train for together. Or dust off dad's bike and start training together for a group ride. Just be sure that the event is far enough in the future, so your father feels that he has time to get in shape and feel comfortable about competing. You can do anything if you make your mind, so instead of getting bored in this quarantine life, have some fun and include your father also in this plan.    "There are many great personalities in the world who did a lot for the world, but the greatest personality in our life is my father who did a lot for us".                                       

So enjoy your plan and share your moments with your father with us.                                                                         
"Happy Father's Day Challenge" from Happy Feet Family.                                                                                                                   
The Happiness of your family - Our passion.
In This Challenge,
1.    You have to either run or walk for at least 1.5 km
     Or
2.    Ride your favourite Bicycle for at least 5 km.


3.    You can do this challenge either alone or with your partner, but the distance would be measured per person.
4.    You can do this at any time of the day.
Rules :
1) Login and Register on the Happyfeetfamily.COM website is a Must
2) Should track your Activity on any App or any medium that can be shared, Data can be automatically collected if you record your activity on Strava which is connected with Happyfeetfamily.com or Manually Updated by participants before 26th June 2021.
3) Happyfeetfamily's Decision will be final and the Organizer holds the right to Change, Modify the elements of the Challenge which will be informed to the Registered Participants at the time of change.
4) The Participants have to make necessary arrangements to complete the Challenge – Happyfeetfamily will not be responsible for any situation arising due to misrepresentation or overperformance by the Participant. As Happyfeetfamily is organizing such challenges with the sole intention of bringing fitness and good health, participants are hereby advised to take proper care of their health and listen to their bodies.
5) All the participants are advised to follow Covid-19 Safety measures and keep their health first in all circumstances.
6) Challenger Trophies are couriered at the end of the challenge on or before 30th June 2021.
Awards and Prizes :
1) Dynamic Leaderboard 
2) An attractive Trophy after achieving your goal.
3) E-certificate (with your photo, name, activity, and distance) which can be downloaded from our site after you login.
4) A Beautiful Poster with your Name as a registered Participant ( Shareable on all Social Media).
REGISTER for the love of your health!
Registration Start from

14-06-2021 to 20-06-2021

Event Start Time

20-06-2021 12:00 AM

Event End Time

20-06-2021 11:56 PM

Fees:

| Ticket Type | Fees |
| --- | --- |
| Dynamic Leaderboard + Digital Frame + E-Certificate + Trophy | ₹ 400 |
| Dynamic Leaderboard + Digital Frame + E-Certificate | ₹ 51 |
| Dynamic Leaderboard + Digital Frame + E-Certificate + Trophy | $ 45 |
| Dynamic Leaderboard + Digital Frame + E-Certificate | $ 5 |
Registration closed for this event.