HFF PRESENTS GOLDEN QUADRILATERAL CHALLENGE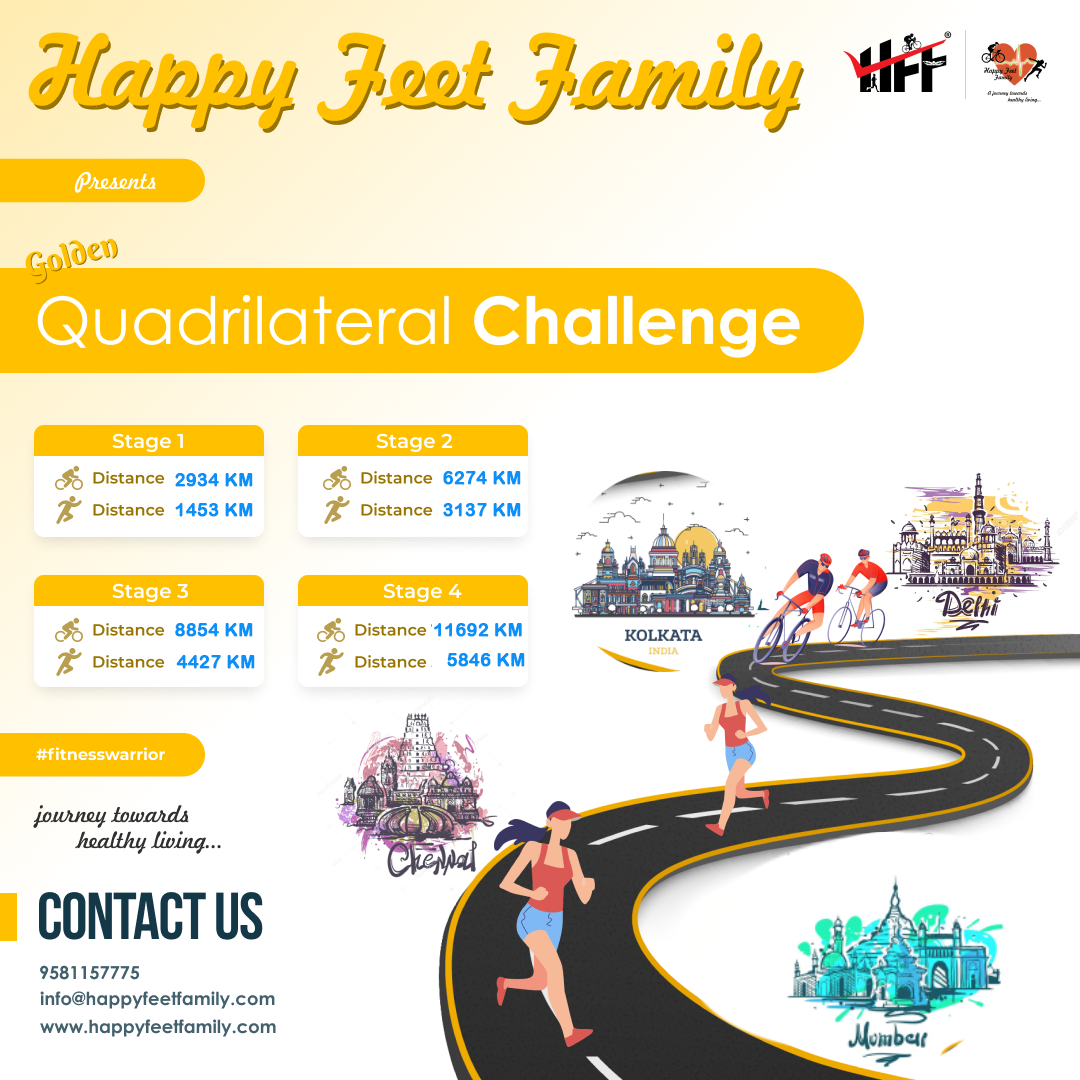 HFF PRESENTS GOLDEN QUADRILATERAL
 CHALLENGE
Happy Feet Family brings GOLDEN QUADRILATERAL challenge, 2022 Annual challenge brought to you to make you healthier and be more fit than you were before.
Join thousands of Enthusiastic Fitness Warrior in their journey to become fit and healthy by accepting this Year Long Challenge.  Let's Start the journey towards Healthy Living with Happy Feet Family in 2022. 

To Qualify in this challenge and register your name among the runners or biker challengers of the world, you need to run or walk or Ride as per Chart:
Stages

Run/Walk
(KMS)

Ride
(KMS)

I

1453

2906

II

3137

6274

III

4427

8854

IV

5846

11692
Those who complete these 4 Stages will get 4 Trophies
To make it more Challenging we have Created Levels:
Level 1 – Easy (complete 4 Stages Once)
Level 2 – Mild (Complete Level 1 Twice)
Level 3 – Strong (Complete Level 1 + Level 2)
Level 4 – Elite (Complete Level 2 Twice)
Register now and start the Journey towards FIT AND HEALTHY LIFESTYLE in 2022
All the very best!!
In This Challenge, 
1. You have to either Run or Walk or Ride as per the Stage and Level (Selected)
2. You can do this challenge either alone or with your partner, but the distance would be measured per person.
4. You can do this at any time of the day, anywhere as per your convenience without affecting your daily routine but adding a healthy one to it…
You will love it, I bet.

Early bird Discount Code:

OSDAIP (7%) Valid from 28th Dec to 01st Jan
W0WBPZ (5%) Valid from 02nd Jan to 10th Jan
 Awards and Prizes:
1) Dynamic Leaderboard
2) 4 Trophies for each Stage after achieving your goal.
3) E-certificate (with your photo, name, activity, and distance).
4) A Beautiful Poster with your Name as a registered Participant
Rules:
1) Login and register on the Happyfeetfamily website is Must
2) Should track your Distance on Strava or any medium that can be shared, Data can be automatically collected if you record your activity on Strava which is connected with Happyfeetfamily.com or Manually Updated by participants With in 7 days from Date of Event End Date.
a) Create your profile and Update it completely. (Fill all the field marked * in the form)
b) Link your Strava. Follow the video (https://youtu.be/A-5v-matrHg)

*(video also available in the gallery ).

3) If your pace is irregular in between KM's or overall pace beyond normal records then the same cannot be considered.

4) Happyfeetfamily's decision will be final, and the Organizer holds the right to Change, Modify the elements of the Challenge which will be informed to the Registered Participants at the time of change.
5) The Participants have to make necessary arrangements to complete the Challenge – Happyfeetfamily will not be responsible for any situation arising due to misrepresentation or overperformance by the Participant. As Happyfeetfamily is organizing such challenges with the sole intention of bringing fitness and good health, participants are hereby advised to take proper care of their health and listen to their bodies.
6) All the participants are advised to follow Covid-19 Safety measures and keep their health first in all circumstances.
7) Challenger Trophies will be couriered at the end of the challenge on or before 01st Sep.
*T&C Applied
Registration Start from

28-12-2021 to 26-01-2022

Event Start Time

26-01-2022 12:00 AM

Event End Time

15-08-2022 11:59 PM

Fees:

| Ticket Type | Fees |
| --- | --- |
| Dynamic Leaderboard | ₹ 0 |
| Dynamic Leaderboard + E-certificate | ₹ 149 |
| Dynamic Leaderboard + E-Certificate and 1 Trophy | ₹ 399 |
| Dynamic Leaderboard + E-Certificate and 2 Trophy | ₹ 599 |
| Dynamic Leaderboard + E-Certificate and 3 Trophy | ₹ 799 |
| Dynamic Leaderboard + E-Certificate and 4 Trophy | ₹ 999 |
| Dynamic Leaderboard + E-Certificate and 4 Trophy Plus Finisher Trophy | ₹ 1299 |
| Dynamic Leaderboard + E-Certificate and 4 Trophy Plus Finisher Trophy Plus Tshirt | ₹ 1599 |
Registration closed for this event.